I crave ramen...probably more frequently than any other food. Somehow, despite growing up in Hawaii with all of its Japanese influences, I think I discovered this love for ramen later in life. I mean, if you count Ichiban, I was an addict from a very young age. But let's be real. That instant stuff can't even begin to compare with the REAL stuff, even with substantial at home doctorings and add-ins (lemon juice, hot sauce and veggies, what's up?!).
I'd long heard about Toki Underground, but it took me years to finally make it there myself. I'll be honest that hearing about wait times upwards of four hours had me a little bit afraid to even try, yet determined I should. It must be THAT good, right? I just hate excessive waits though. Well, I was trying really hard to find a way to squeeze it in to plans last month when I stumbled upon this little tidbit: they offer limited, early reservations on some days. SAY WHAT?! Well, in that case...
We found our way (after a little H St. exploring) up the stairs to the little delight that is Toki Underground (and yes, I made some cheesy joke about this not being under groun, ba dum bum...hello? Guys? GUYS?). If you haven't been yet, note that the address is shared with The Pug, and there is a door with a blue sign on it just to the left of The Pug that leads the way. Very unassuming. (Win.)
Most of the seats are side-by-side, like a bar that wraps around the restaurant walls and windows and, if you're lucky, the kitchen. Oh, and the foot rest is definitely made of skateboards without the wheels layered upon each other. (Yes, I initially wondered if the guy I was sitting next to was a skateboarder...)
So...now...on to the real crux of it all: the food!
Appetizers
We started with the fried pork dumplings and pickled cucumbers. Both were delightful and addicting.
Ramen
Patrick ordered the red miso ramen, which was topped with chasu pulled pork. The broth was infused with soybean paste. It was delicious. I mean, look at it...
I ordered the Taipei curry chicken ramen. I knew it came with fried chicken, but for some reason didn't realize that meant substantial pieces of fried chicken. Pieces that I may have struggled slightly to eat due to my fading chopstick skills (I take full responsibility here.) :) The curry infused broth was really my favorite, something different from what I typically get. I love curry and ramen, so I figured the combination was worth a try.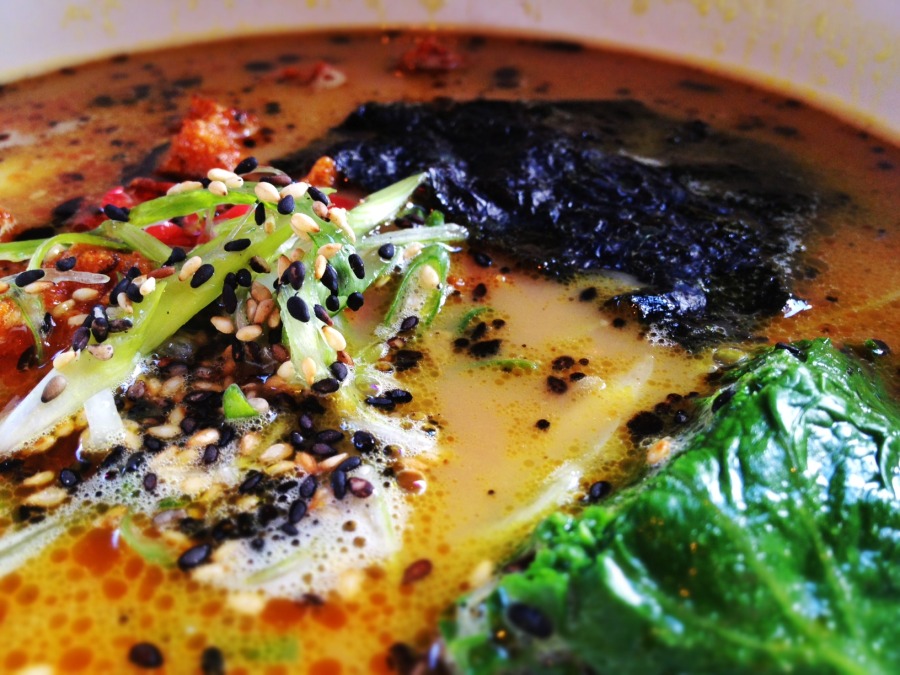 I definitely enjoyed my meal and will be returning to Toki Underground sooner rather than later. I think it's an experience best shared with a smaller group (of two, maybe three tops) given the space and layout. Definitely consider planning in advance to get an early reservation if you want to avoid the wait. Although, the H Street area definitely provides a lot of options for killing time before, or even after.